All Things Are Under His Feet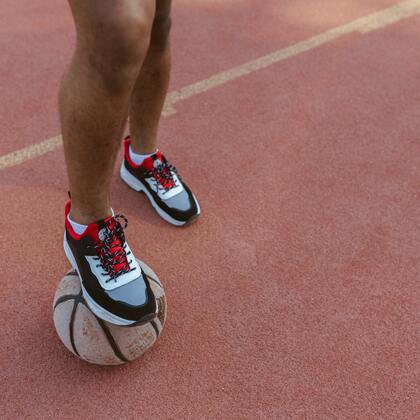 The whole world is full of chaos. It is a system that generates constant anxiety, and this anxiety is increasing exponentially. Besides the anxiety produced by the pandemic, there is now an ongoing war with its suffering and the unknown impact it will have on the entire world.  People are looking for deliverance but do not know how to find it. Nothing we can do is able to bring true deliverance.
For deliverance, we must know Jesus Christ in His ascension. This may be the most underappreciated or overlooked accomplishment in the history of the universe. The whole world in one way or another recognizes Jesus. His birth is the basis for the world's calendar system.  All are familiar with holidays that celebrate His birth and resurrection. What He accomplished in His life of 33 and a half years on this earth far exceeds what any other human being has accomplished in history.
We need to go on to see that Jesus Christ today is in ascension and occupies the highest place in the universe, with everything underneath His feet. Seeing the significance of His ascension will be a great help to us when we go through troubling, anxious, and suffering situations. The diagram below with brief explanations of the significance of the events of Jesus' life can help us appreciate what a great thing it is to know Him and receive all He has done for us.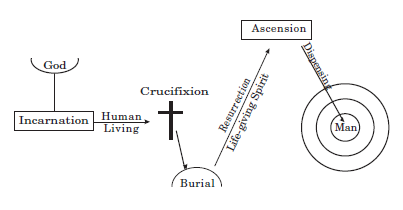 Incarnation - God became a man, Jesus Christ.
Human Living - He lived a perfect human life as a man and was qualified to be our redeemer.
Crucifixion - He died on the cross as our substitute and all of our sins were taken from us and placed on Him.
Burial - He overcame death and all negative things.
Resurrection - In resurrection He became the life-giving Spirit
Ascension - He has all authority and all the problems of this world are under His feet. He is now positioned to dispense Himself into man.
Ephesians 1:22 And He subjected all things under His feet and gave Him to be Head over all things to the church
Jesus in ascension is above all things, including all the problems and chaos we face. He has all authority. If a person walks into busy traffic they may get hit by a car, but a policeman because of his uniform and authority is able to direct the cars. This is an example of the ascended Christ.
He is not just passively sitting in heaven enjoying the authority and all His achievements and accomplishments. He is very actively working to make all His accomplishments real to us in our experience. He does this through dispensing Himself into us when we receive Him as our Lord and Savior.
Ephesians 4:10 He who descended, He is also the One who ascended far above all the heavens that He might fill all things.
Dispensing is how His accomplishments become our experience. This is like a pitcher full of water, and we are like a cup without water. The water from the pitcher must be poured into the cup. God has promised many things like all-sufficient grace, abundant joy, real peace, deep rest, and genuine love, but in order to experience these promises, we must open our heart and our spirit to God through receiving the dispensing from the ascended Christ. This is His ultimate purpose – that He might fill us with Himself as our life to become our living.
You may pray this to receive and start knowing Jesus Christ in His ascension.
Lord Jesus, thank You for Your accomplishment of ascension. Open my eyes to see and gain a rich appreciation of the significance of all things being under Your feet. Thank You for what You have accomplished in ascension and Your dispensing. I open my heart and my spirit to receive You, so that all Your promises become my daily experience. I want to know You as my life and my living.